PAST FILM SCREENING
JEAN OF THE JONESES
May 10 – 2:00 + 7:30 PM
Canada / USA, 2016 – Rated 14A – 82 minutes
Directed by Stella Meghie
Cast: François Arnaud, Gloria Reuben, Anna Hopkins
Writer-director Stella Meghie takes the family comedy into fresh new territory with this whip-smart tale about the twentysomething scion of an all-female Brooklyn clan wrestling with her literary aspirations, romantic mishaps, and the chaotic preparations for her estranged grandfather's funeral. Jean of the Joneses is a savvy comedy exploring three generations of vibrant and unforgettable women in the Jones family.
To say that Jean (Taylour Paige) is at a crossroads would be putting it kindly – she really doesn't know which way she's headed. A vista of unappealing career prospects opens before her, and her latest relationship has just unceremoniously ended. Chronically self-analyzing, she often hangs out with her two aunts, mother, and grandmother Daphne (Michelle Hurst, television's Orange is the New Black, Frances Ha). The women's routine of lively dinners at Daphne's brownstone, is interrupted when the estranged patriarch of the family literally dies on their doorstep.
Ray (Mamoudou Athie, television's The  Get Down), the paramedic who responds to their 911 call, falls fast for the acerbic Jean. The feeling is more or less mutual, but their potential romance will have to take a back seat to the chaos leading up to the funeral. In a series of sometimes harsh, always-spirited discussions – fuelled by a complex family history, and occasionally a few drinks – the women will do their best to figure themselves out, and to understand each other.
Meghie's feature debut takes the multigenerational family comedy into clever new territory. The Jones women are thoughtful, honest, and exceptionally funny, and Jean of the Joneses observes them all with infectious affection. Moving to a sprightly jazz soundtrack by pianist Robi Botos, and exhibiting an irresistible energy, this is one of the best-written and most entertaining films of the year.
"If Jean of the Joneses feels fresher than most multigenerational ensemble dramedies, credit not only the relative novelty of an all-black, mostly female cast, but also writer director Stella Meghie's talent for suggesting the invisible bonds that unite her characters, despite their many disagreements and (in some cases) general disagreeability."
– Justin Chang, Variety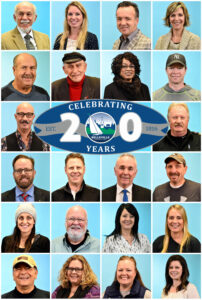 Also playing this week:
My Belleville 200
Directed by Aaron and Angela Bell
Written and directed by Belleville's own Aaron and Angela Bell – a co-production with the City of Belleville to commemorate its Bicentennial. Local citizens talk about what they love about this friendly city.
SINGLE
TICKETS
ONLINE THROUGH THE EMPIRE THEATRE WEBSITE
Evening/ Matinee - $12
Student -$5
BUY TICKETS