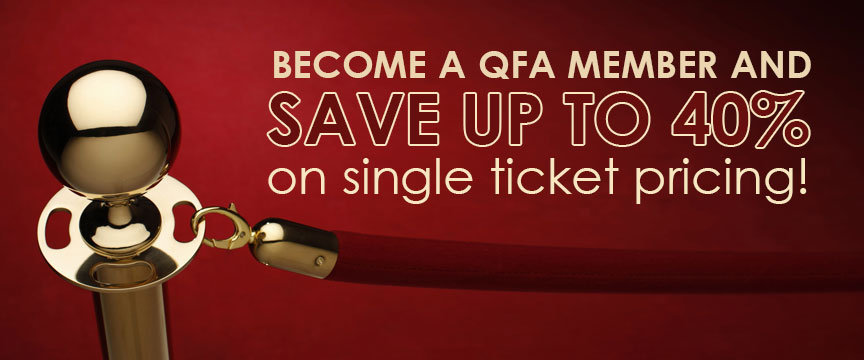 Benefits of Membership
Save up to 40% on Single Ticket Pricing
A QFA MEMBERSHIP includes:
• Guaranteed admission to ALL 18 GREAT MOVIE WEDNESDAY Films — Avoid Box Office Line-ups
• 2 Bring-a-Friend Complimentary Tickets
• An Invitation to the Members-only Season Finale Film & Social
That's 19 films, 1 party and 2 Bonus Single-Screening Tickets ALL for one low price!
Matinee Memberships
Half-Season – $60
Full-Season – $120
Evening Memberships
Half-Season – $70
Full-Season – $140 (Please note – Evening Members may attend Matinee Screenings.)
Single-Screenings
Single-screening tickets are available at The Empire Theatre Box Office – in advance or at-the-door – 321 Front Street, Belleville or by calling 613-969-0099.
Matinee: $9 / Evening: $11 / Student: $5.50
Want to become a member?
NEW MEMBERS REGISTER DIRECTLY ONLINE WITH QFA HERE
and avoid any lineup!
EXISTING MEMBERS (anyone who has been member in the last 3 years) may use the shortened form located HERE.
OR
JUST DOWNLOAD YOUR PRINTABLE FORM HERE
and bring it along with your payment (cheque or cash) to any QFA GREAT MOVIE WEDNESDAY screening.